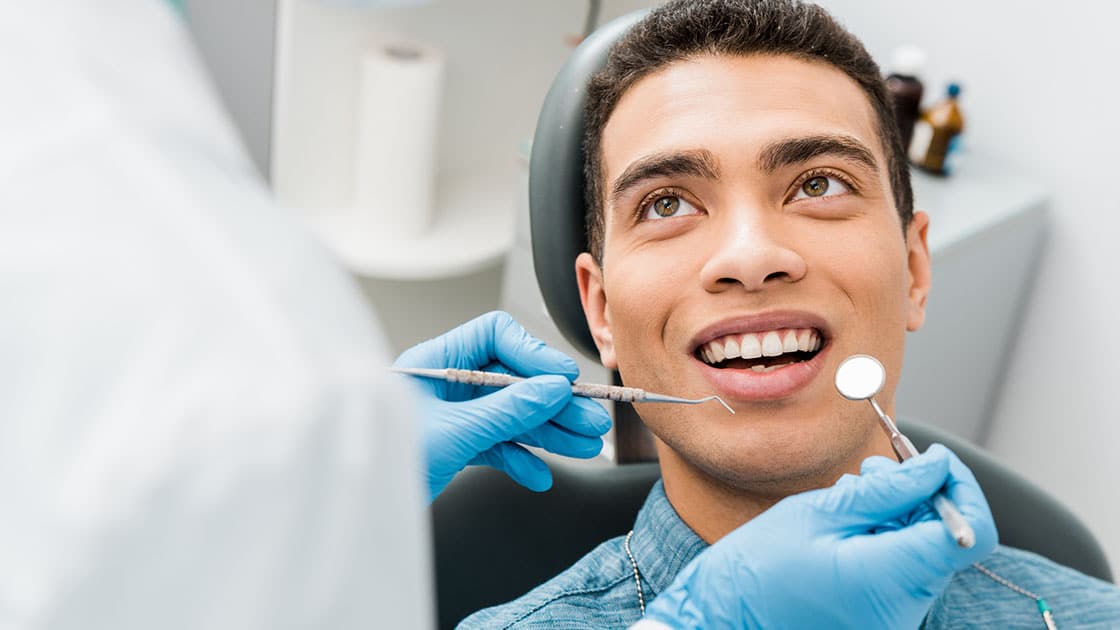 At North County Endodontics, we offer internal teeth whitening, a type of facial esthetic treatment that can quickly and noticeably brighten a discolored tooth. Call us today at 760-944-0048, or send us a message to learn more or book an appointment.
What Is Internal Teeth Whitening?
The experts at North County Endodontics know that most people want a healthy mouth and a beautiful smile. Internal teeth whitening is a cosmetic (esthetic) treatment that can bring out the beauty in your smile by improving the color of teeth that have darkened due to trauma or previous treatments.
Internal teeth whitening can lighten the color of teeth that appear dull, discolored, or darkened due to an internal problem in the tooth. For some patients, a root canal performed in the past may have caused a dark color that does not match the other teeth. Other patients may have discolorations as a result of a traumatic dental injury. 
Benefits of Internal Teeth Whitening
Internal teeth whitening may offer benefits including:
Improved overall mood: Research has shown that when a person is happier with their smile, they are often happier in general.
Greater confidence: You'll feel much more confident sharing your smile with the world when you're happy with what you see in the mirror!
Improved oral health: People who are happy with their smiles are often more inclined to take care of their teeth.
Internal Teeth Whitening: What to Expect
As its name implies, internal teeth whitening lightens teeth from the inside out. To lighten a discolored tooth, our endodontic specialists will first confirm the source of the discoloration. To that end, they will rule out bacteria as the source through imaging tests. Should the source of the discoloration be residual bacteria in the tooth following a previous root canal, endodontic retreatment will be required before the tooth can be whitened.
If you are eligible for teeth whitening, a tiny hole will be drilled in the discolored tooth. Then a whitening agent (a peroxide gel) will be placed in the tooth. The gel often remains for one day. In other cases of severe discoloration, the gel may be removed and replenished until the desired outcome is reached. Once the gel has been removed, the tooth will be sealed.
Internal teeth whitening is a low-risk procedure. However, some patients may experience increased tooth or gum sensitivity or tenderness in the days following treatment.   
WHY CHOOSE NORTH COUNTY ENDODONTICS?

At North County Endodontics, in Encinitas, CA, we are passionate about patient results. Whether you require endodontic treatment to save a tooth and improve oral health, or you are tired of hiding your smile due to tooth discoloration, our endodontic specialists provide compassionate, experienced, skilled care to patients from throughout North County, San Diego.
Frequently Asked Questions About Internal Teeth Whitening
When is internal tooth bleaching necessary?
Staining may originate inside a tooth if a patient has experienced dental trauma or had a previous root canal performed. In these circumstances, external teeth bleaching will not improve the discoloration. Internal bleaching can safely and effectively brighten stained or discolored teeth that do not respond to traditional external whitening methods.
Do I need a root canal before internal tooth bleaching?
If discoloration of a tooth is due to inflammation or infection, you will not be approved for internal bleaching until after your root canal procedure.
Is internal tooth bleaching safe?
Yes. Thanks to new technologies and techniques, internal tooth whitening is a very low-risk procedure.
Does internal tooth whitening cause discomfort?
Some patients experience minor discomfort, such as tenderness or sensitivity, in reaction to the bleaching agent. Our endodontists will make recommendations for dealing with any sensitivities or tenderness you experience following your treatment.
How long does internal bleaching take?
Treatment times can vary depending on the severity of a patient's dental staining. Some patients can achieve ideal results with just one treatment. Others may require multiple treatments to thoroughly remove staining.
Contact North County Endodontics
If you have a discolored tooth and external teeth whitening treatments have failed, you may be a candidate for internal teeth whitening. Call North County Endodontics at 760-944-0048 or send us a message to request an appointment with our experienced endodontists.